See how the Season 10 Tag Teams Started Super Mega Awesome Battle Dream Supreme
Aug 29, 2013 - Performers: DragonLily , Syd Blakovich , Tia Ling , Bella Rossi , Mistress Kara , Cheyenne Jewel , Izamar Gutierrez , Serena Blair , Beretta James , Odile , Sahara Rain and Bella Wilde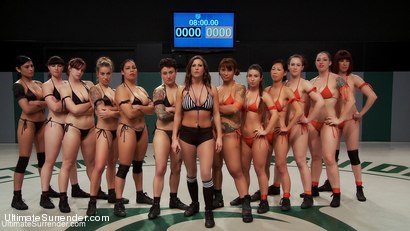 Join Site!
700+ Shoots
500+ HOURS of Video
150k+ Pictures
Updates every Friday in HD
Plus one live tag team match per month
Access to member forums
DragonLily
"The Dragon"
Height:
5'4
Weight:
120lbs
Season W/L:
(3 - 0)
Lifetime W/L:
(36 - 7)
Syd Blakovich
"The Nightmare"
Height:
5'2"
Weight:
120lbs
Season W/L:
(1 - 0)
Lifetime W/L:
(20 - 3)
Tia Ling
"JADE"
Height:
5'1''
Weight:
110lbs
Season W/L:
(1 - 0)
Lifetime W/L:
(9 - 5)
Bella Rossi
"The Annihilator"
Height:
5'5"
Weight:
140lbs
Season W/L:
(1 - 1)
Lifetime W/L:
(22 - 14)
Mistress Kara
"The Queen"
Height:
5'7"
Weight:
150lbs
Season W/L:
(1 - 0)
Lifetime W/L:
(14 - 1)
Cheyenne Jewel
"The Wrangler "
Height:
5'5"
Weight:
127lbs
Season W/L:
(3 - 0)
Lifetime W/L:
(13 - 7)
Izamar Gutierrez
"La Diabla"
Height:
5'3"
Weight:
130lbs
Season W/L:
(2 - 0)
Lifetime W/L:
(19 - 9)
Serena Blair
"The Jockey"
Height:
5'0"
Weight:
100lbs
Season W/L:
(1 - 1)
Lifetime W/L:
(6 - 7)
Beretta James
"Little Pistol"
Height:
5'5"
Weight:
105lbs
Season W/L:
(1 - 0)
Lifetime W/L:
(6 - 4)
Odile
"The Dynamo"
Height:
5'7"
Weight:
125lbs
Season W/L:
(1 - 2)
Lifetime W/L:
(1 - 2)
Sahara Rain
"The Hurricane"
Height:
5'4"
Weight:
125lbs
Season W/L:
(0 - 1)
Lifetime W/L:
(0 - 1)
Bella Wilde
"The Wolf"
Height:
5'2"
Weight:
120lbs
Season W/L:
(1 - 0)
Lifetime W/L:
(4 - 1)
See how the Season 10 Tag Teams Started. This is a republish of the Prelim for the Tag Teams for Season 10. This was first published in Feburary of season 10. Tag Finale for Season 10 in it's entirety will be released 9/03/13. Don't miss it!!!!

What else could we name this epic battle??? This is the Super Mega Awesome Battle Dream Supreme!!!!!! . We've got the "A team" on the mat. Some of today's and yesteryear's all stars clash on the mats in the most Epic shoot ever in the history of Ultimate Surrender. Dragon Lily and Syd Blackovich are this season's team captains. They are 2 experienced team captains attempting to coach their teams to victory. They each get 5 girls on their team all of which are hand picked by them as part of the competition. The teams picked in this match are the permanent Tag teams for season 10 but today they battle in individual matches for their teams. The Coaches each have very different training methods for getting their teams ready for battle on the mats but both are extremely militant coaches. We have some scripted sexual training but we also have footage of the real "behind the scenes" of the coaches doing real strategizing and training with their teams. All the Wrestling is 100% unscripted. Life is stranger than Fiction and no one would have written a script better than the reality these all-star wrestlers brought to the mats on their own.

There's a coin toss. The winner of the coin toss is allowed to chose whether she wants to pick her first wrestler or if she wants to pick the first match up. Dragon wins the coin toss and she decides to pick the first wrestler. We go back and forth allowing the captains to pick their teams. For this Match, each girl must wrestle one 8 minute round. The losing team captain of the round gets to decide the next match up to give her an advantage in hopes of keeping this a closely contested battle. And close battle this is. Every single match has nail biting exciting moments. Because each girl only wrestles one 8 minute round, the rounds are much faster and more furious than a regular round of U/S. These girls put everything they have into their one round.
The score board is all over the place with both teams racking up points in every match. And just when you think the drama is over; just when you think you know who has won, there's a surprise. The first EVER DQ in ultimate surrender history puts the DQ'ed wrestler's teams at risk for getting fucked in the bitter end!!!!! This is the most intense and boldest shoot ever made in the history of Sexual Wrestling. The wrestling is elite level competitive grappling and the Orgy Prize round is masterfully executed by true winners who obviously have experience taking their spoils after victory
**********BONUS************
EXTRA GANG BANG SCENE FOR YOUR PLEASURE

Izamar vs. Mistress Kara
Bella Wilde vs Odile
Bella Rossi v Cheyenne Jewel
Berretta James v Serena Blair
Sahara Rain v. Tia Ling
Syd Blackovich vs. Dragon Lily

in over 2 hours of nonstop sexy action excitement the whole frat house can enjoy! This battle may be over but the war goes on. Tune in all year to see who wins the TAG TEAM Championship and gets to fuck the loser while they wear their belts!