Darling and Bella Rossi takeon Penny Barber and Rookie, Juliette March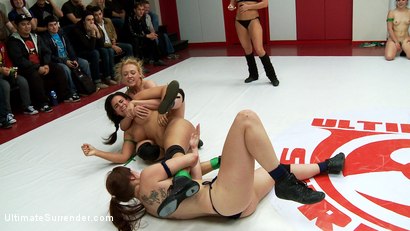 Join Site!
700+ Shoots
500+ HOURS of Video
150k+ Pictures
Updates every Friday in HD
Plus one live tag team match per month
Access to member forums
Darling
"The Grappler"
Height:
5'4
Weight:
120lbs
Season W/L:
(0 - 2)
Lifetime W/L:
(34 - 14)
Penny Barber
"The Tarrasque"
Height:
5'6
Weight:
130lbs
Season W/L:
(3 - 1)
Lifetime W/L:
(15 - 9)
Bella Rossi
"The Annihilator"
Height:
5'5"
Weight:
140lbs
Season W/L:
(1 - 1)
Lifetime W/L:
(22 - 14)
Juliette March
"Pain Pixie"
Height:
5'1"
Weight:
110lbs
Season W/L:
(1 - 1)
Lifetime W/L:
(7 - 4)
It was not our intention to have such a lop-sided tag match. Darling was supposed to be teamed up with Mia Li and Penny Barber was supposed to have Juliette as her tag partner. But last minute Mia Li could not make it to wrestle so Bella Rossi stepped in to replace her.
Juliette has been impressive in season 11 but she didn't stand a chance against the likes of Darling and Bella Rossi. Last season, as members of team nightmare, Darling and Bella cleaned house in tag matches. Today it will come down to strategy and Heart. If Penny Barber can utilize tags properly to keep her partner out of trouble, they may stand a chance.
One thing is for sure, with talent of this caliber, orgasms on the mat are guaranteed.