LIVE TAG TEAM LEAGUE
The Ninja's(1-0)
vs
The Goddesses (0-0)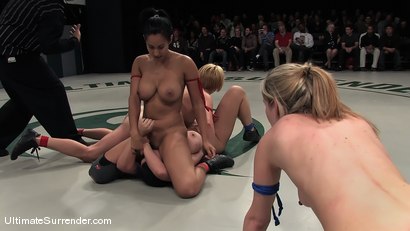 Join Site!
700+ Shoots
500+ HOURS of Video
150k+ Pictures
Updates every Friday in HD
Plus one live tag team match per month
Access to member forums
Isis Love
"Goddess"
Height:
5'6
Weight:
115lbs
Season W/L:
(6 - 1)
Lifetime W/L:
(25 - 8)
Vendetta
"Vendetta"
Height:
5'6
Weight:
135lbs
Season W/L:
(5 - 1)
Lifetime W/L:
(27 - 5)
Calico
"The Kitten"
Height:
5'5
Weight:
115lbs
Season W/L:
(0 - 1)
Lifetime W/L:
(1 - 3)
Claire Dames
"The Juggernaut"
Height:
5'4
Weight:
120lbs
Season W/L:
(1 - 2)
Lifetime W/L:
(1 - 2)

2009 TAG TEAM LEAGUE
IN FRONT OF A LIVE AUDIENCE


TEAM NINJA
Isis Love & Vendetta
Combined HT:132"
Combined WT: 255lbs
Record:(1-0)

TEAM GODDESS
Claire Dames & Calico
Combined HT:129"
Combined WT: 242lbs
Record:(0-0)

Welcome to Ultimate Surrender's 2009 Tag Team League. Team Ninja vs Team Goddess. Four girls, non-scripted, real tag team action.
This is the start of the new 2009 Tag Team Season. New teams; new wrestlers. The Beginning of what will be the the most brutal Tag Team Season yet!
The Ninja's have scored a new permanent wrestler in the form of Isis Love. Isis has come out of retirement to wrestle for the elite Tag Team League. This team is now the team to beat.
Team Goddess is in real trouble today. Both their regular wrestlers are out due to injuries. Stepping in at the last minute are Claire Dames with her huge tits, and Calico with her sexy lithe frame. They don't stand a chance in Hell but it will be fun watching them get their beautiful asses kicked!
This is the third match of the new 2009 Tag Team season: 5 teams battle to see who will be crowned the Champion. If you have not joined yet, now is the time! This is the ground floor of the most brutal and sexiest wrestling league on the net.