LIVE TAG TEAM LEAGUE
The Pirates (1-1)
vs
The Ninjas (2-0)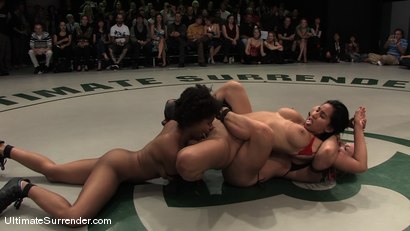 Join Site!
700+ Shoots
500+ HOURS of Video
150k+ Pictures
Updates every Friday in HD
Plus one live tag team match per month
Access to member forums
Isis Love
"Goddess"
Height:
5'6
Weight:
115lbs
Season W/L:
(6 - 1)
Lifetime W/L:
(25 - 8)
Vendetta
"Vendetta"
Height:
5'6
Weight:
135lbs
Season W/L:
(5 - 1)
Lifetime W/L:
(27 - 5)
Dia Zerva
"Iron Maiden"
Height:
5'5"
Weight:
130lbs
Season W/L:
(3 - 0)
Lifetime W/L:
(17 - 3)
Yana Jordan
"The Wildcat"
Height:
5'5"
Weight:
135lbs
Season W/L:
(2 - 2)
Lifetime W/L:
(2 - 2)

2009 TAG TEAM LEAGUE
IN FRONT OF A LIVE AUDIENCE


THE PIRATES
Dia Zerva & Yana Jordan
Combined HT:131"
Combined WT: 270lbs
Season Record:(1-1)
Franchise Record (4-2)
THE NINJAS
Vendetta & Isis Love
Combined HT:132"
Combined WT: 255lbs
Season Record:(2-0)
Franchise record (5-1)
Welcome to Ultimate Surrender's 2009 Tag Team League. The Pirates vs The Ninjas. Four girls, non-scripted, real tag team action.
This is the new 2009 Tag Team Season. New teams; new wrestlers. The Beginning of what will be the the most brutal Tag Team Season yet!
This is the match-up everyone has waited for. Isis Love is back and is looking hotter then ever. Vendetta and Dia Zerva will face off for the first time. Hang on - this could get rough.
The Pirates have been looking forward to this match for weeks. Both of these girls train hard off of the mat, and each looks forward to battling their counterpart. Dia wants fingers in Vendetta, and Yana wants Isis to be her little sissy bitch. This team is polished, coordinated and ready.
The Ninjas are cocky. After all, it's Vendetta and Isis - and they know it. Vendetta is a past US champion, and Isis is a back from retirement and an elite member of the US hall of fame. This team is not worried about much.
The first round is a wake up call for the Ninjas as the Pirates' coordination, speed, and skill surprises the veteran Ninjas. Isis gets trapped and mauled at the end of the round and the Pirates are looking good.
Round two is a different story, as the Ninjas dominate from the start, not only do they get the lead back but they look great doing it. Then tragedy strikes, and Yana goes down hard with an injury. We are 3 seconds past the halfway point of the match and according to the rules, the match is over.
But Round 4 will be held, and it is decided that Dia will take the double team while an injured Yana watches. However, the Ninjas spy Darling in the crowd, and drag her ass onto the mat and begin to fuck her and the loser.