SUMMER VENGEANCE TOURNAMENT MATCH UP!
Bella Rossi VS Darling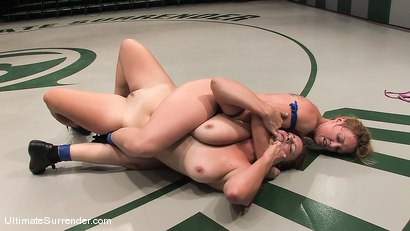 Join Site!
700+ Shoots
500+ HOURS of Video
150k+ Pictures
Updates every Friday in HD
Plus one live tag team match per month
Access to member forums
Darling
"The Grappler"
Height:
5'4
Weight:
120lbs
Season W/L:
(0 - 2)
Lifetime W/L:
(34 - 14)
Bella Rossi
"The Annihilator"
Height:
5'5"
Weight:
140lbs
Season W/L:
(1 - 1)
Lifetime W/L:
(22 - 14)

SUMMER VENGEANCE MATCH UP: QUARTER FINALS!

BELLA ROSSI
The Annihilator
HT: 5'5
WT: 155lbs
Season record (3-1)
Lifetime record (3-1)
Ranked 6th
DARLING
The Grappler
HT: 5'4
WT: 115lbs
Season record (3-1)
Lifetime record (12-5)
Ranked 3rd
Welcome to the 2009 Championship tournament. The top 16 wrestlers of the season face off in a single elimination tournament. Check out the
Summer Vengeance Bracket
here.
Now the competition steps up. We are in the Quarterfinal matches, the top 8 square off to see who is the elite, the best US has to offer. Bella Rossi has powered her way into the quarterfinals on size, strength and brute power. She is a power, but a power that is wild and unpredictable.
Darling is one of the most highly trained wrestlers we have. Her knowledge of Jiu-Jitsu has given her the skills to make her one of the elite Ultimate Surrender wrestlers. Brute power and size had no answer for finesse and skill. Darling schooled the bigger girl, [REDACTED] her to submit on the mat, and fucked her like a whore in Rd4. Darling moves forward to the Semifinals.