Tia "Jade" Ling (0-0)
vs
Ashley "The Fairy" Jane (0-1)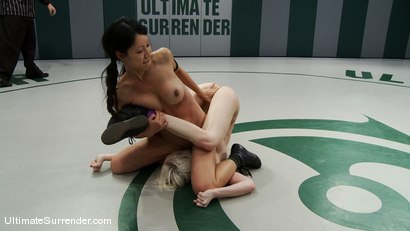 Join Site!
700+ Shoots
500+ HOURS of Video
150k+ Pictures
Updates every Friday in HD
Plus one live tag team match per month
Access to member forums
Tia Ling
"JADE"
Height:
5'1''
Weight:
110lbs
Season W/L:
(1 - 0)
Lifetime W/L:
(9 - 5)
Ashley Jane
"The Fairy"
Height:
5' 1"
Weight:
95lbs
Season W/L:
(0 - 1)
Lifetime W/L:
(0 - 4)

Season Seven Match
TIA LING
Jade
HT: 5'1
WT: 102lbs
Season record (1-0)
Lifetime record (2-2)
Ranked 9th
ASHELY JANE
The Fairy
HT: 5'1
WT: 95 lbs
Season record (0-1)
Lifetime record (0-1)
Ranked 19th
Battle of the featherweights! Tia is ripped this season and has gotten off-the-mat training. At age 33 this little powerhouse is smoking hot. Ashley is back for her second match-up of the season. This girl is stunningly beautiful and sexy; we are lucky to have her on a site like this. She has the capacity to be aggressive. Lets hope she finds that spark.
Poor little Ashley Jane. Her first two matches have been with our smallest girls and both have abused and fucked her on and off the mat. Today Jade just plays with The Fairy. Jade fingers her at will on the mat and makes Ashely moan - she's helpless to stop it. In short, Jade kicks her ass, then fucks it in Round 4. A good day for Jade, a good day for members, a bad day for the anal fairy.