Tia "Jade" Ling (2-1)
vs
Holly "The Hit Man" Heart (0-3)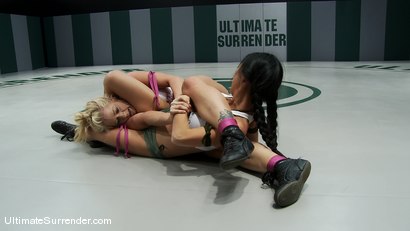 Join Site!
700+ Shoots
500+ HOURS of Video
150k+ Pictures
Updates every Friday in HD
Plus one live tag team match per month
Access to member forums
Tia Ling
"JADE"
Height:
5'1''
Weight:
110lbs
Season W/L:
(1 - 0)
Lifetime W/L:
(9 - 5)
Holly Heart
"The Hit Man"
Height:
Weight:
135lbs
Season W/L:
(3 - 0)
Lifetime W/L:
(8 - 12)

Season Seven Match

TIA LING
Jade
HT: 5'1
WT: 102lbs
Season record (2-0)
Lifetime record (3-2)
Ranked 8th

HOLLY HEART
The Hit Man
HT: 5'6
WT:145 lbs
Season record (0-3)
Lifetime record (0-3)
Ranked 13th

Tia Ling is the featherweight Ultimate Surrender superstar. At 5'1 and 102lbs this little Asian power house is fierce. Her only loss this season was to the Dragon, and with the Summer Vengeance Tournament coming up no one want a loss to drop them in rankings.

Holly Heart is one of the strongest rookies we have had to date. She is looking for her first win against the much smaller veteran. Holly is ready for a victory.

This match was won and lost in the very last second of the match. One of the most exciting finishes we have ever filmed. Do not miss this great match up!