Darling "The Grappler" (2-0)
vs
Allie "The Hazer" Haze (0-0)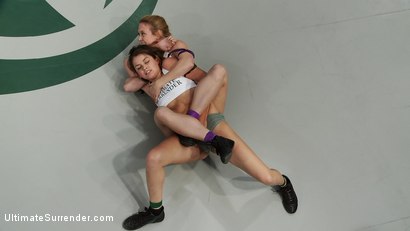 Join Site!
700+ Shoots
500+ HOURS of Video
150k+ Pictures
Updates every Friday in HD
Plus one live tag team match per month
Access to member forums
Darling
"The Grappler"
Height:
5'4
Weight:
120lbs
Season W/L:
(0 - 2)
Lifetime W/L:
(34 - 14)
Allie Haze
"The Hazer"
Height:
5'7"
Weight:
125lbs
Season W/L:
(2 - 1)
Lifetime W/L:
(2 - 3)

Season Seven Match

DARLING
The Grappler
HT: 5'4
WT: 112 lbs
Season record (2-0)
Lifetime record (14-5)
Ranked 5th

ALLIE HAZE
The Hazer
HT: 5'7
WT: 125lbs
Season record (0-0)
Lifetime record (0-0)
Not Ranked

We are winding down the regular season. Darling gets the call for some last minute mat time before the Summer Vengeance tournament starts on June 4th. Darling was a favorite to win last year, but a neck injury tosses her from the competition. Darling is looking forward to this year's SV.

Welcome Allie Haze to Ultimate Surrender. This cute girl next door is feisty, but hopelessly out-matched. Allie joins the US ranks late in the season, and will be returning next season as a regular.

Darling abuses and destroys Allie. Crushing headlocks, body scissors, and brutal face sits are just some of the holds the rookie found her self in. There was nothing Allie could do to keep Darling from finger fucking her helpless pussy on the mat.