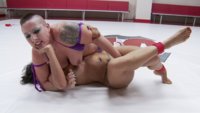 Mistress Kara has gone the entire tournament with out ever having a point scored on her. She has devastated every single girl she has come across in the tournament. Today she meets her toughest opponent, Izamar Gutierrez. Izamar has been training for Kara and she thinks she is going to take her down today. Winner puts the loser in a brutal Torture-Rack hold. Loser is Body slammed, hand Gagged and Fisted

See the complete Behind-the-Scenes documentary of the shooting of this very match, on Kink University now! Director Ariel X and her wrestlers and crew explain the history, personal stories, and real wrestling secrets behind Ultimate Surrender.
Join Site!
Buy Shoot!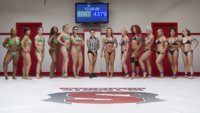 These Team Captains have been going at it all season long. It's been a back and forth battle all season. Just when one team gets ahead in points, the other team cums from behind and closes the gap. Today the Grapplers come in with less than a 300 point lead. Tarrasque has some strong players on their team tonight and they are hoping to get the victory and give Darling the gang bang she deserves.

Round 1 is mona wale and Mia Li for Team Tarrasque taking on Daisy Ducati and Julietter March for Team Grapppler

Round 2 is Lisa Tiffian and Yasmine Loven for Team Tarrasque taking on Holly Heart and Angel Allwood for Team Grappler

Round 3 is Penny Barber and Cheyenne Jewel for Team Tarrasque and Darling and Izamar for Team Grappler

Round 4 is a brutal gang bang of the losing team. Fucked Hard, Turned into human dildos to be used to make the winner cum. Mutiny for the losing Captain as her team turns on her and gang bangs her. Hard fisting from her team!
Join Site!
Buy Shoot!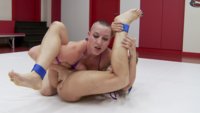 Cheyenne Jewel is Undefeated so far this season. She's going up against last years welterweight and Summer Vengeance Champ, Mistress Kara. Kara is the biggest, Strongest most devastating wrestling on the roster but her record this year is not undefeated. The Loser of this match geta fucked in the ASS HOLE FIRST. This way she can be utterly humiliated the entire time she gets fucked. Her Ass taints the cock and makes round 4 extra filthy, ASS to mouth then fucked in the pussy with the ass cock
Join Site!
Buy Shoot!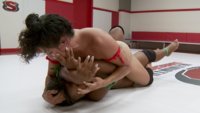 Yasmine Loven and Izamar Gutierrez have been devastating their opponents all season. These two wrestlers have Power that no other girls possess and today they clash to find out who is the most powerful sexual gladiator at Ultimate Surrender.
Join Site!
Buy Shoot!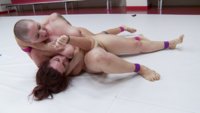 Mistress Kara is last year's Summer Vengeance Winner. Savanna Fox is this Season's Rookie Cup Champion. Savanna Just beat an elite wrestler who out weighed her by several pounds today she takes on the biggest, strongest wrestler on the US roster. Loser is fucked hard and good. These Champions aren't on the receiving end of the strap on often but when they are, they get it good and hard.
Join Site!
Buy Shoot!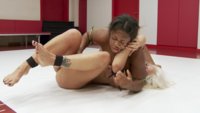 Tournament matches are always the toughest, hardest fought battles of the year. Today proves to be especially brutal for one wrestler. For 2 hard rounds, Holly Heart and Yasmine Loven give it everything they've got. They clash hard and the action is back and forth. One wrestler doesn't pace herself well and has to quit after 2 rounds of wrestling. She is brutally punished with an ANAL ONLY round 4. We bypass her loser pussy and go straight for her loser asshole. Huge Anal Strap on, Ass to Mouth, Ass smoothering. We put the loser through the ringer. She is fucked so hard in the ass she has to quit on the anal fisting too. Quitters get a rude awakening on ultimate surrender.
Join Site!
Buy Shoot!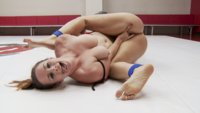 Cheyenne Jewel and Bella Rossi have not had a singles match yet. Today, Summer Vengeance puts these two hot red heads against each other. Bella Rossi uses her 69 positioning to wrap up Cheyenne and finger fuck her close to orgasm
Join Site!
Buy Shoot!