Cheyenne Jewel, Savannah Fox
on February 19 at 7:00 PM PST
Season 13 Light weight Championship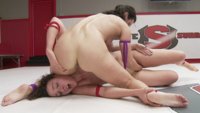 Wenona is Back to take on an amazon. Lilith Luxe has a long tall slender body that towers over Wenona. Wenona has nearly years of wrestling experience and has the muscles to show how hard she's worked. Winner fucks the loser good and hard the whole time verbally humiliating her. She lays her out and makes her cum again and again and then tramples her with her bare feet
Join Site!
Buy Shoot!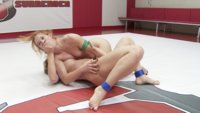 Brutal fucking for the loser. Loser is utterly humiliated and fucked with a huge cock, made to cum over and over again. Cheyenne Jewel and Darling meet on the mats for the first time as light weights and it's a match neither will forget
Join Site!
Buy Shoot!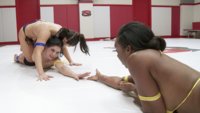 coaching your team can have great rewards or bitter consequences depending on whether you win or lose. This is a back and forth match with non stop action. One wrestler is brought to tears because she fears losing. The losing team captain is demoralized, fucked in the ass with a huge cock then carried off the mats like a little bratty baby.
Join Site!
Buy Shoot!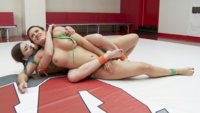 Penny Barber and Juliiette March are the most notorious Brats ever in Ulitmate Surrender history. These two are bitter losers and even more bitter winners. One thing is for sure, who ever wins will utterly humiliate the loser with a true grudge fuck. Loser must submit to a girl who bests her. It sucks getting fucked by someone you despise. Loser cleans off winners dirty feet after she is toe fucked.
Join Site!
Buy Shoot!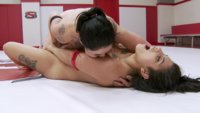 This year we are seeing a lot of improvement from Fallon West. She has been doing tag matches and picking up moves from team mates and it shows in this match. Adley Rose is nothing to sneeze at. She comes in as an absolute rookie, never wrestling in her life and she gives a very impressive performance. With a little more coaching both these girls are going to be outstanding wrestlers and strap on fuckers!
Join Site!
Buy Shoot!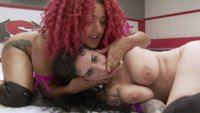 These two wrestling babes get feisty. They taunt each other the entire time. Nothing is hotter than a sexy wrestler getting trapped in a hold, turning frustrated and made to cum on the mats. When the Buzzer goes off, the punishment doesn't stop. The girl in control at the end of round 3 keeps the hold and fingers her opponent to orgasm.
Join Site!
Buy Shoot!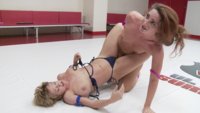 This match was shot live on October 16th of 2015. It is technically a season 12 match. Due to scheduling conflicts we had to wait until after summer vengeance to film this match but this is the season 12 light weight championship bout between season 12 rookie cup champion, Savanna Fox and reigning lightweight champion, Darling. This match is arguably one of the greatest matches ever to grace the US mats. No one can predict what was to happen. One of the most memorable prize rounds. The winner abuses the loser and humiliates her live on webcam taking suggestions from the adoring, viewing fans. Make sure to stay tuned to the added footage of what transpired after the prize round and between rounds. The loser is tickle relentlessly and spanked after she is brutally beaten and disgraced. The punishment keeps going and going. Foot worship, face sitting, spanking.
Join Site!
Buy Shoot!