Penny Barber, Izamar Gutierrez, Lisa Tiffian, Kajira Bound
on July 1 at 7:00 PM PDT
Tag team Match up Penny Barber and Lisa Tiffian ( in Green) take on Izamar Gutierrez and Kajira Bound ( in Red)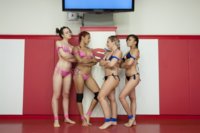 Daisy Ducati and Lilith Lux take on Annie Cruz and Savanna Fox. Annie Cruz hasn't done a tag match in years. Does she have what it takes to take on the 2 long, lean leggy babes on team Ducati. This is a nail bitting match. The action is back and forth and one team squeaks into the lead at the very last seconds of the match. Losers must trib fuck in "biggest loser sexy fight". Losers are fucked hard with choking, hair pulling, huge strap ons, face slapping, and squirting orgasms
Join Site!
Buy Shoot!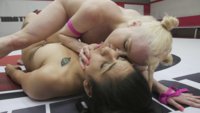 Nikki Delano is ranked 16th. She is the smallest girl on the roster this year but the most dangerous on the mats. She in tenacious and will do what ever it takes to win. Adley Rose is ranked 15th. She's strong and has some street fighting experience. You do not want to be in a dark alley with her alone at night. These girls go tit to tit in a very close match up. This match becames a shoving match as neither girls wants to let the other one get too close. Winner is able to gain control and smother kiss the loser. The winner moves to to fight Milcah Halili ( ranked 8th) Winner hand gags the loser, fucks her hard with a strap on in the pussy and the ass. Loser is made to come over and over then she is face sat.
Join Site!
Buy Shoot!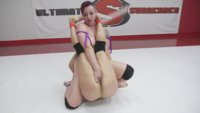 This is the Welter Weight Tournament for 2016. Kara was the champion prior to this match. She is defending her title again against Izamar. One Wrestler shows utter domination. Winner fucks loser and humiliates her with face slapping, muscle worship, armpit licking, stripping her naked. The Ref joins in to give the loser DP and anal fisting.
Join Site!
Buy Shoot!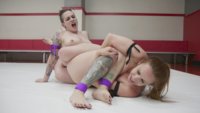 Rizzo is a scrappy rookie who is ready to throw down. She wants to take on one of our best wrestlers so we handed her over to Bella Rossi who was more than happy to humiliate poor Rizzo. Rizzo does show she has a few moves but will it be enough to get Rossi to give the ultimate surrender of flesh? Winner gives the Loser a standing 69 to demonstrate her power. Loser is head scissored while made to suck cock and getting spanked. Hair puling, hand gagging, rough fucking, face sitting with pussy smothering put one of these wrestlers in her place
Join Site!
Buy Shoot!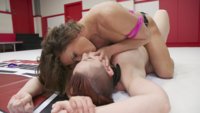 Two of the greatest of all time meet in the mats for the highly anticipated Rematch of the century. Mistress Kara is here for redemption. Ariel X is here to prove she is the GOAT ( greatest of all time). One wrestler is out matched. A true Display of dominance in the wrestling. One of these wrestlers makes the other wrestler look like an utter failure. It's hard to believe that one wrestler of such high caliber can be made humble so easily. Loser is collared as a slave, tied up and fucked until her pussy gapes. Loser is Hand Gagged, command kissed and made to worship the muscle of the dominant winner. Winner trib fucks loser until they both cum. As a final act of humiliation, the winner strips the loser of all her accolades and turns her into a common rookie without bands or titles. Loser is banned from competition until she can prove herself.
Join Site!
Buy Shoot!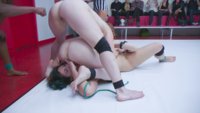 It's Lisa's turn to do some bullying in a tag match. Penny and Lisa torment Kajira, trapping her on the mat too far away from her team mate to be able to tag out for help. Bella Rossi does a great job trying to make up points. Bella single handedly takes on the bullies Penny and Lisa to try to take team annihilator to victory. Loser are tied up and fucked hard. Used panties are jammed into their mouths to shut them up. They are blind folded and made to suck cock and take humiliation. Hang gags and brutal fisting
Join Site!
Buy Shoot!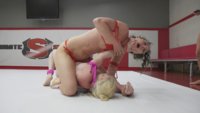 This is the rookie cup tournament final match. Today we crown the 2016 rookie cup champion. Hard fought battle in erotic wrestling between two lesbian fighters. Winner takes her prize like a pro. Loser must do a piggy back ride lift and carry on the winner and perform muscle worship. Loser gets a good hard spanking, hair pulling, hand gag, face sitting ass smother and then she is choked with the powerful legs of the winner while she is made to cum over and over.
Join Site!
Buy Shoot!