Annie Cruz, Savannah Fox, Daisy Ducati, Lilith Luxe
on June 3 at 7:00 PM PDT
Daisy Ducati and Lilith Luxe vs. Annie Cruz and Savannah Fox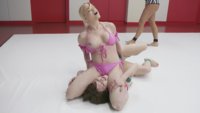 Alexa Nova may regret her second chance. Nikki Delano has her eye on the prize. She wants to win the tournament and she will stop at not costs. One wrestler is trapped and fingered for nearly an entire round. One wrestler is trapped and kissed until she cant breath. Brutal fucking for the prize round with hair pulling, hand gagging, fish hooking, pussy fucking and anal.
Join Site!
Buy Shoot!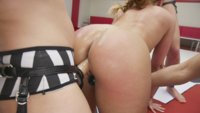 Savanna Fox is the reigning light weight champion. Today she takes on Cheyenne Jewel. Cheyenne Jewel has gone Vegan and she's dropped down to the light weight division. This is back and forth batttle for the title of sex fight champion. This streamed live. Out standing wrestling with an epic round 4. Loser is hand gagged, fucked hard while the winner flexes her beautiful muscles to show off her power and to mock the loser. Just when the you think fucking is done, the loser is dragged back for more by the ref, made to lick feet and toes and finger fucked so hard she is left twitching from cumming so hard. 100% real competitive erotic wrestling Championship bout!
Join Site!
Buy Shoot!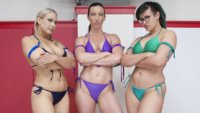 this is the 2016 MILF tournament. We put Moms I'd Like to Fight on the mats to see who is the toughest mommy. Round 1 is Penny Barber vs. Wenona. Round 2 Angel Allwood vs. Penny Barber. Round 3 is Wenona vs. Angel Allwood. Round 4 is Wenona AND Angel vs. Penny Barber. All girls get fucked regardless of if they win or lose. DP acation, Fisting Action. Trib Fucking Action, Spitting and humiliation
Join Site!
Buy Shoot!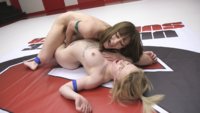 Alexa Nova and Anna Tyler both have lost their first matches. Today someone will win and the other will remain a pathetic loser. One girl starts out too fast and gasses and can not finish the match. She is behind in points and for quitting and sucking, she must pay the price. The winner strips her of her bands and makes her watch the huge strap on cock rip her thigh pussy open. Then the winner takes the losers asshole
Join Site!
Buy Shoot!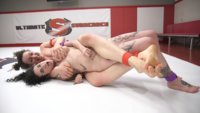 Welcome to season 13 rookie cup tournament. Lilith Lux is one of the biggest, strongest rookies we have this year. She's got lethal legs and she's learning how to use them. Arabella is one of the scrappiest rookies. She will pull a bitches hair and bite her if she needs to but she will get disqualified if she does that. One wrestler is in for a rude awakening. The loser is brutally fucked, Hang Gagged, drools all over the mat and has her hair mop the mat clean. Loser if Fucked Face down ass up until her rose bud falls out of her freshly fucked asshole.
Join Site!
Buy Shoot!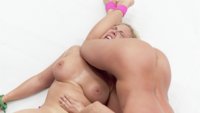 Angel Allwood has been doing pretty well in tag matches and she thinks she's ready to take on an elite erotic wrestler. She challenges Ariel X to a Winner Take all Match. The winner of this match gets to do what ever she wants to the loser and that includes dragging her on to Everything Butt and Destroying her asshole. After one wrestler traps her opponent and fingers her to Orgasm, she doesn't stop there. After the buzzer in round 3 goes off, she has fingers in the pussy and as rules state, she can keep fingering until Orgasm is achieved. Winner Brutally fuckes losers. Winner does push ups trusting her cock down the losers throat. Loser is Spanked mercilessly, choked face sat and made to worship the winners muscles. Then the loser is lift and carried into the enema room to clean up for an all Anal day at Everything Butt. For the EverythingButt.com segment go to Everythingbutt.com
Join Site!
Buy Shoot!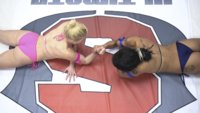 This is the rookie cup tournament. This is 100% real competitive erotic wrestling with the greatest prize at steak, ego and pussy! Nikki Delano and Jessica Creepshow go at an all out war. Unfortunately this match is stopped early due to a piercing injury. The loser demands a rematch but in the mean time she needs to give up the pussy. She is fucked mercilessly while being choked and hand gagged.
Join Site!
Buy Shoot!