Darling, Penny Barber, Jayogen, Izamar Gutierrez, Angel Allwood, Lisa Tiffian
on March 6 at 7:00 PM PST
2nd edition of Team Tarrasque vs. Team Grappler Wrestlers for Tarrasque: Lisa Tiffian, Jayogen Wreslters for Grappler: Isamar, angel allwood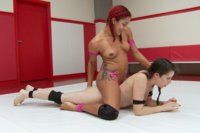 Freya French is wrestling for ultimate Surrender for the first time today. She has some wrestling experience and is confident she can take on last year's Rookie Cup Champion, Daisy Ducati. Daisy has been extremely impressive in her last few matches. She's proven to have lethal legs.
Join Site!
Buy Shoot!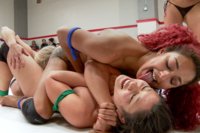 Penny Barber has Ella Nova and Jayogen wrestling for her tonight against Darling's team made up of Daisy Ducati and Angel Allwood. This is a Nail bitting close match up to the buzzer. Heavy consequences for the Captain of the team who loses the first match....fistings, anal and Glazed Donuts. Losing Captain gets Cum Splattered on her freshly fisted pussy
Join Site!
Buy Shoot!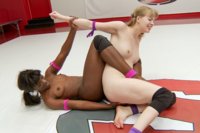 Dolly Leigh is new to wrestling but no stranger to shame. She's got long lean legs and she thinks she knows how to use them. Ana Foxx is here to show Dolly she don't know anything about wrestling.
Join Site!
Buy Shoot!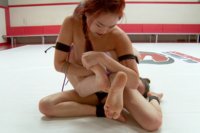 Season 12 is turing out to be one of the most orgasmic season we've had and it's due mostly to our hot little feather weights who seem to cum easily at the hands of Juliette March. Juliette March gets so hot and bothered by wrestling girls who put up a fight that she nearly cums on the mat. The New rules state that if fingers are inside the pussy at the end of round 3 the dominant wrestler keeps finger after the buzzer until there's an orgasm!! Trapped, helpless and knowing that time wont save her, one wrestlers cums hard on the matts
Join Site!
Buy Shoot!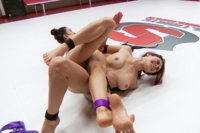 You've been waiting a while to see this one. These girls have been talking shit about each other for some time. They meet right here right now. Back and forth action. These Leggy babes battle for control. One gets close to cumming on the mats, One Does cum on the mats.
Join Site!
Buy Shoot!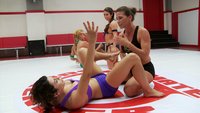 There is NO WRESLTING in this update. This is a behinds the scenes glimps of how we book and train our girls. Sometimes a booking goes smoothly without any hiccups and sometimes Murphy's Law kicks and and it seems like nothing can go right.
See how we fill in cancellations and train our girls who have never wrestled before. This is completely PG, no nudity, no wrestling. It tells the story of how we do things. A bonus for the Ultimate Fan
Join Site!
Buy Shoot!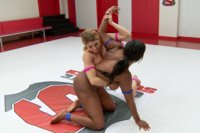 These two wrestlers have curves in all the right places and they know how to use it. Tits and ASS for days in the face. Winner takes narrow victory after wearing down the loser. Less Than a 5 point difference, the winner earns her prize and takes it from the bitter loser.
Join Site!
Buy Shoot!