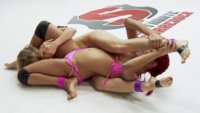 Mona Wales is Season 12 Feather Weight Champions. Check her stats page to see her victory over last season's champion, Juliette March. Mona is undefeated this season. She has improved greatly as a wrestler. She is taking season 11 Rookie Champion, Daisy Ducati. This is Daisy's first singles match for the season. Both these girls have strong, lethal legs. Mona has a 1 inch height advantage and she knows how to use it. These girls put each other in leggy holds. They slam each other, they finger fuck each other. round 4 has brutal fingering and fisting. Loser gives up her ass for the first time on the US mats. Loser Gets Squirt in the face and rubbed around on the mats in it.
Join Site!
Buy Shoot!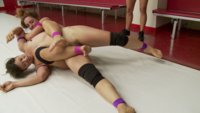 Jayogen is one of our strongest welter Weight Wreslters. She is ranked 10th in Summer Vengeance. She is taking on our impressive Rookie Cup winner, Savanna Fox who is ranked 9th in this tournament. The winner will take on Penny Barber. This is a wild match between two determined wrestlers. Insane holds, Great, fast traditions. Surprise outcome. Winner utter trashes the loser. Loser is humiliated and fucked hard
Join Site!
Buy Shoot!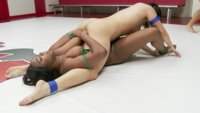 Lea Lexis takes on season 12 rookie cup finalist, Lisa Tiffian in an extremely full competitive erotic wrestling match. These girls give everything they've got. No one wants to go home a loser. Stakes are high on Ultimate Surrender. If you lose, you must offer up a hole. Humiliation, Anal, Lift and Carry. This match is what Summer Vengeance is all about.
Join Site!
Buy Shoot!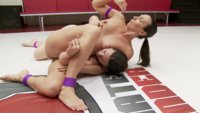 This is Summer Vengeance. The girls come at each other hard and fast. One wrestler gets trapped on the mats begging for air while the dominate wrestler brutally keeps fingering her until she has to quit.
Join Site!
Buy Shoot!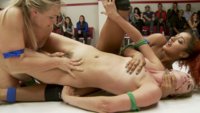 Penny Barber and Darling head their teams again for season 12. They attempt to coach their teams to victory, not because they love to win, mostly because they don't wanna lose and get gang banged again. Today the winners make the losers squirt all over each other and mop the mats with their faces. One poor loser is DP'ed and brutally fucked in front of her team
Join Site!
Buy Shoot!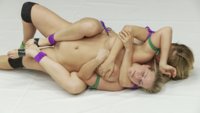 Mona Wales is undefeated this season. She is on a rampage, kicking ass and taking pussy and ass. Today she meets with one of our favorite rookies this season, Angel Allwood. Stakes are high for summer Vengeance. Loser must give up the ass hole.
Join Site!
Buy Shoot!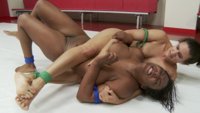 Because we had a rookie cup tournament, some of the matches had to be shot out of order to accommodate our update schedule. This is one of Lisa's First matches ever and she's going up against our finest vets, the Big tittied, mouth Milf we all love to hate, Penny Barber. These girls clash hard on the mats. There is a lot of power in both their legs, and much damage to be done with their huge tits flying around everywhere. The Winner takes the loser's ass and pussy as a prize. The tits are tied up and the loser is made to acknowledge they are a failure to all their fans.
Join Site!
Buy Shoot!