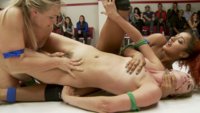 Penny Barber and Darling head their teams again for season 12. They attempt to coach their teams to victory, not because they love to win, mostly because they don't wanna lose and get gang banged again. Today the winners make the losers squirt all over each other and mop the mats with their faces. One poor loser is DP'ed and brutally fucked in front of her team
Join Site!
Buy Shoot!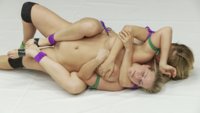 Mona Wales is undefeated this season. She is on a rampage, kicking ass and taking pussy and ass. Today she meets with one of our favorite rookies this season, Angel Allwood. Stakes are high for summer Vengeance. Loser must give up the ass hole.
Join Site!
Buy Shoot!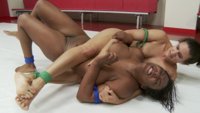 Because we had a rookie cup tournament, some of the matches had to be shot out of order to accommodate our update schedule. This is one of Lisa's First matches ever and she's going up against our finest vets, the Big tittied, mouth Milf we all love to hate, Penny Barber. These girls clash hard on the mats. There is a lot of power in both their legs, and much damage to be done with their huge tits flying around everywhere. The Winner takes the loser's ass and pussy as a prize. The tits are tied up and the loser is made to acknowledge they are a failure to all their fans.
Join Site!
Buy Shoot!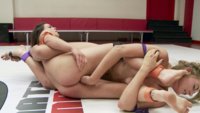 This is an Intense back and forth battle between two of our finest feather weight Wrestlers. Juliette March is our Reigning Champ but Mona Wales has been working her way to the top and today she wants to squash that little shit, Juliette March. Brutal leg scissor holds, Brutal back and forth power exchange. The winner Thoroughly humiliates the loser with trash talk and by pouring Piss on the the loser. Behind the Scenes footage for a bonus of humiliation. See the Real Piss harvested!
Join Site!
Buy Shoot!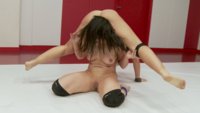 Savanna Fox is our Rookie cup champion this season. She is one of the most impressive light weights in the division. She takes on Lea Lexis today. Lea wants so badly to make it to the finals of the light weight championship so she can redeem herself against Darling. Who ever wins today gets the chance to fight Darling for the light weight championship. Extra BTS footage at the end
Join Site!
Buy Shoot!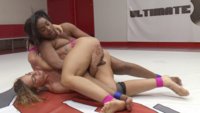 Today the biggest asses of the rookie tournament collide on the US mats in the season 12 rookie cup finale. Lisa Tiffian is undefeated so far. She has been bull-dozing her opponents all season long. Savanna Fox has had an impressive showing this season with her only loss being to a vet. Now that Savanna knows the rules, she's ready to take on anyone and then drop her big booty on their faces in round 4. With so much ass on both these girls, there is sure to be a lot of ass smothering in all rounds.
Join Site!
Buy Shoot!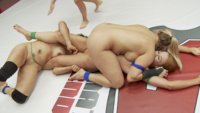 The team captains have stepped out this month leaving their wrestlers to fend for themselves. This means that which ever team loses, the wrestlers are going to be punished extra hard since there is not team captain to gang(bang) up on. Cheyenne Jewel is stepping in to replace Ella Nova to make the teams even. The teams are now much more even and this is a start to an exciting well balanced, unpredictable tag match. This match is so close it could have gone either way up to the very last minute of the match. One team takes the victory and rubs it in good to the losers.
Join Site!
Buy Shoot!