Penny Barber, Bella Rossi, Kajira Bound, Anna Tyler
on May 6 at 7:00 PM PDT
Ultimate Surrender is the Premiere choice for fans of unscripted 100% competitive female/female erotic wrestling. These Women put everything on the line in front of a live audience. The Losers must concede with the Ultimate Surrender; getting fucked and humiliated in front of the world. Tonight's show is an exciting tag team battle. Penny Barber and Anna Tyler battle with Bella Rossi and Kajira Bound in an all out sex war to see who is the superior sex fighting team. The Winner's Prize is fucking the losers.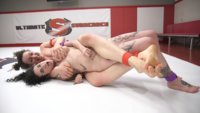 Welcome to season 13 rookie cup tournament. Lilith Lux is one of the biggest, strongest rookies we have this year. She's got lethal legs and she's learning how to use them. Arabella is one of the scrappiest rookies. She will pull a bitches hair and bite her if she needs to but she will get disqualified if she does that. One wrestler is in for a rude awakening. The loser is brutally fucked, Hang Gagged, drools all over the mat and has her hair mop the mat clean. Loser if Fucked Face down ass up until her rose bud falls out of her freshly fucked asshole.
Join Site!
Buy Shoot!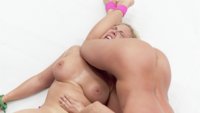 Angel Allwood has been doing pretty well in tag matches and she thinks she's ready to take on an elite erotic wrestler. She challenges Ariel X to a Winner Take all Match. The winner of this match gets to do what ever she wants to the loser and that includes dragging her on to Everything Butt and Destroying her asshole. After one wrestler traps her opponent and fingers her to Orgasm, she doesn't stop there. After the buzzer in round 3 goes off, she has fingers in the pussy and as rules state, she can keep fingering until Orgasm is achieved. Winner Brutally fuckes losers. Winner does push ups trusting her cock down the losers throat. Loser is Spanked mercilessly, choked face sat and made to worship the winners muscles. Then the loser is lift and carried into the enema room to clean up for an all Anal day at Everything Butt. For the EverythingButt.com segment go to Everythingbutt.com
Join Site!
Buy Shoot!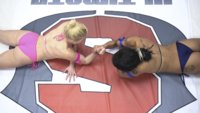 This is the rookie cup tournament. This is 100% real competitive erotic wrestling with the greatest prize at steak, ego and pussy! Nikki Delano and Jessica Creepshow go at an all out war. Unfortunately this match is stopped early due to a piercing injury. The loser demands a rematch but in the mean time she needs to give up the pussy. She is fucked mercilessly while being choked and hand gagged.
Join Site!
Buy Shoot!
One rookie shows pure domination. She pins her opponent and fingers her non stop making her cum again and again. Karmen Karmen came here to do two things: Make bitches cum and blow bubble gum and she's all out of bubble gum. Karmen dominates her opponent with one hand in the pussy and one hand making a flex all while she blows bubble gum making it look sooooo easy. Unfortunately the winner of this match retired from porn before the end of the tournament so she forfiets. We will update what would have been her next match in the tournament with the light weight championship match instead.
Join Site!
Buy Shoot!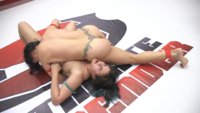 This match was filmed streaming LIVE. This is 100% real, competitive erotic wrestling. These Sexual wrestling gladiators show us what sex fights are all about. Penny Barber shows us impressive power against our powerhouse, Izamar. Penny Barber takes the lead going into round 2. Izamar must make a move if she's going to win. One of these wrestlers is made to cum on the mats. It is her demise. Too Many Orgasms from the sex fight, leaves one of these girls useless on the mats. Turned into a fuck doll for round 4. Loser is stripped of her colors, face fucked, fisted, and fucked in the ass with an anal strap on. Gaping ass is squirted with Cum.
Join Site!
Buy Shoot!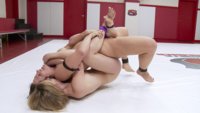 Holly Heart has turned into a Brunette and her evil dark side has come out. She is a big bully on the mats today and she thinks her victim will be feather weight Champion, Mona Wales. Mona has been on a winning streak and she has been mean to her losing opponents. Today, one of these girls will get a dose of humility. Loser is Face fucked, fingered, choked, put into submissions over and over. Winner puts the Loser in the a tight head scissor and makes her submit
Join Site!
Buy Shoot!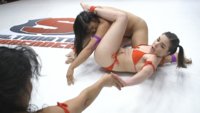 Juliette March is a Brat and it could cost her and her partner their asses. Juliette lets Izamar do ALL the work for this match. She doesn't even keep track of their tags and it causes "Team Las Diablas" to miss a tag and a LOT of points. Juliette Taunts Mia and Lisa from the side lines and it infuriates them. Win or Loser, Mia and Lisa Promise to Fuck Juliette March up in this match or in a singles match, They will show her how REAL wrestlers bring it! Losers trib fuck in biggest loser contest- Get fucked with Giant dongs in front of an audience.
Join Site!
Buy Shoot!