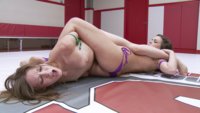 The Pain Pixie brings the pain to welcome our newest feather weight, Alexa Nova. Alexa is tough and flexible. She get bent into crazy positions and withholds brutal submission attempts. Loser is fucked in uncomfortable fashion with her wholes left gapping wide. She is broken is properly as a loser on ultimate surrender and then she is left naked and curled up like a pussy on the mats with a cock stuck in her ass.
Join Site!
Buy Shoot!
This match start with Ella Nova and Sophia Locke scheduled to take ont Mia Li and Fallon West. After an exhausting first round, Ella is pulled off the mats and Mona Wales steps in for her. Team muscle misses out on a tag in round one and they fall behind but they pick up momentum and rip an orgasm from one of their opponents during a tag. They are able to catch up and make a nail bitting, suspenseful match
This is a night of games! Losers perform in a "biggest Loser Sex fight. One loser has to play "guess who's pussy is in your mouth" after she fails at guessing correctly she must lick everyone's pussy while they are stacked in a pussy pyramid. Lot's of squirting orgasms into the losers' faces.
Join Site!
Buy Shoot!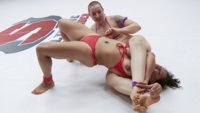 We are well into season 13 but we still have the championship for Welter weight and Lightweight titles for season 12 to be released. If you are lucky enough to catch out night shows ( typically on the 3rd friday of the month) then you already caught this match. Izamar and Kara have wrestled many times before and Kara has always bested Izamar. However Izamar has been training and she has studied how Ariel beat Kara and she believes she is going to take back her title as Welter Weight Champion. Kara utterly destroyed Izamar in the Summer Vengeance finales where Izamar was only able to get 2 points on Kara. Today Kara's plan is to have Izamar score 0 points and have her marked the "0" loser she is. The loser if fisted and fucked anally after verbal humiliation puts her in her place.
Join Site!
Buy Shoot!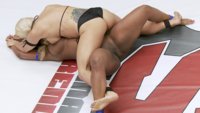 Holly Heart is back for season 13 and in the spirit of classic US season premieres, we put her against a rookie so she can squash her. The rookie is trapped on the mats and makes pathetic noises while she is finger fucked tirelessly. Holly shows no mercy and even makes the rookie quit before she can go 3 rounds. Loser is brutally humiliated and worships the winners body and feet
Join Site!
Buy Shoot!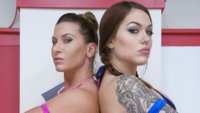 Ariel X is back on the mats to welcome a beautiful new rookie to the mats. Welcome, Karma "Bad" Karma. She wrestled in her school days but today she's in for a rude awakening. Warning!!! there are some brutal holds, Back Breaking camel clutches, Japanese Strangle holds, Brutal Leg Scissors and powerful Slams. This is erotic wrestling at its most painfully honest finest. The winner never lets up, Even after the Buzzer the girl on top keeps going and fingers her opponent to orgasm. In the Prize round, the Loser is humiliated by being made to suck on freshly wrestled on feet and suck freshly wrestled on Ass. Extreme Face sitting, Extreme Strap on Fucking and if that isn't enough, the winner drags the loser on the The Whipped-Ass set to give her even more of a hazing. To see the segment of Whipped Ass continue go to www.kink.com/39104
Join Site!
Buy Shoot!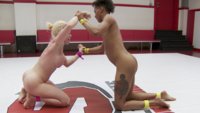 We welcome back the incredibly fit and sexy, Nikki Darling. Today she takes on rookie, Nikki Delano. Both these girls have incredible bodies and personalities. They go toe to toe and tit to tit, slamming each other, molesting each other and fucking each other. Winner Gives the Loser a brutal punishment and leaves her twitching from over stimulation and orgasms. Strap on fucking, Foot Worship and Mean lesbian action
Join Site!
Buy Shoot!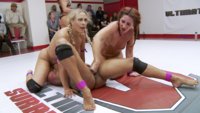 Our 2 Rookie Cup Champions meet up as Tag Team Captains with 2 of our finest rookies of season 12. Daisy Ducati Coaches as team captain with Lisa Tiffian. These two Carmel babes take on Savanna Fox and Angel Allwood. This is a bitterly close tag match. These girls put it all on the line. Losers are put against each other in a "Biggest Loser" sex fight. The losers trib fuck each other, who ever comes first is deemed the weak link and the loser amongst the losers or The Biggest Loser. Both Losers are fucked hard and humiliated in front a live audience then fisted and left in a pile of shame.
Join Site!
Buy Shoot!